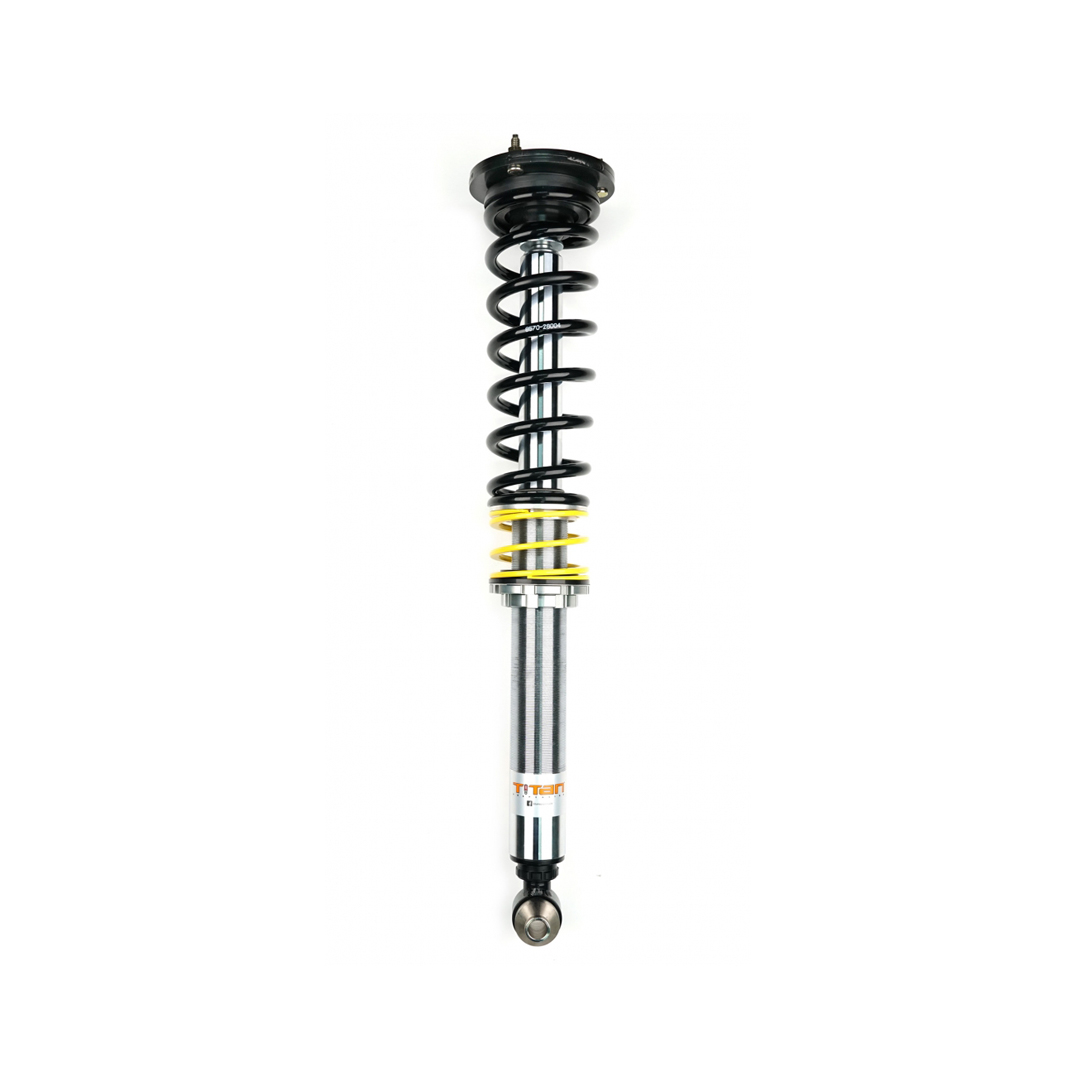 The T-40 combines the light-weight feature of a monotube damper with the ride comfort of a twin tube design. This suspension unit will create the perfect balance for your sedan or SUV. Designed specifically with comfort in mind, perfect for street, heavy load and highway driving. It provides more comfort, absorbs bumps and provides consistency for the perfect cruise. With 24 clicks of adjustment, you can now adjust your ride height and damping force as you wish.
Inverted Monotube Technology 
The T-40 uses inverted monotube technology which improves ride comfort and allows for a smoother ride. This type of technology utilizes the same advantages as gas pressure absorbers. It distributes the supporting and lateral forces over a wide area to provide enhanced stability, making it the technology of choice for drivers seeking additional comfort.
Performance Tested 
This system is the perfect installation for the tuning enthusiast who prioritises the performance of their suspension. We stand behind our products and have tested them on the road.
High Charged Gas Technology 
Using high charged gas technology, it provides immediate response to road inputs which provides for a more consistent performance.
24 Click Adjustment 
Uniquely designed with a special flow valve and 24 clicks of adjustment, the T-40 clears levels with evenly distributed force.
Adjustable Height
Easily adjust the height of your ride! Lower your ride to the maximum approved range knowing that the T-40 has your back.
2 Year Warranty 
You're in good hands! We're so confident you'll love our products we offer a 2 Year Warranty for all our products sold through Titan Suspension.
Highest Quality, Guaranteed
At Titan Suspension, we stand behind the craftsmanship of our products. We pride ourselves in building innovative products for the motor industry of the highest performance and quality. Our products are for enthusiasts who appreciate and understand the underlying benefits of using custom shock absorbers and coilovers.
Specifications:
24 Clicks of Damping Adjustment
Inverted 40mm Outer Shaft
Inverted Monotube Technology
UK Damping Oil
High Charged Gas Technology
German Oil Seal
Ultra Density Alloy Steel Damping Tube
Threaded Body
High Rigidity Bracket
Steel Exterior
Chrome Molybdenum Alloy Steel
German Quality Piston
High Speed Lift and Down